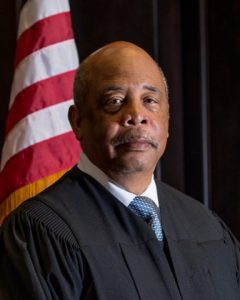 In 1967 Charles Lee Porter  graduated from Jonas Henderson Sr. High School in New Iberia, La.  He attended Southern University and awarded a degree in Political Science in 1971.  After  college he enlisted and served in the U. S. Marine Corp.  Charles attended and graduated from the Southern University Law Center in 1976 with academic honors serving as Editor-in-Chief  of the Southern University Law Review.
In  October 1976 he was  admitted  to the  practice in state and federal courts.  In May 1978, he accepted an appointment as an Assistant District Attorney in St. Mary Parish and twice re-appointed.    He was elected District Judge in November 1993 in the Sixteenth Judicial District of Iberia, St. Martin and St. Mary Parishes under Section 5 of the Voting Rights Act.  He served as Chief Judge 1999 and 2007, President of the Louisiana District Judges Association (LDJA) 2006/ 2007.  Judge Porter served in Juvenile Court supporting improvements in agency and court  practices in cases of abused and neglect child victims.
After 21 years of service Judge Porter retired form District Court in December 2014. He received an appointment to the Mandatory Continuing Legal Education Committee of the Louisiana Supreme Court in December 2014.  In September 2015 Judge Porter received the Professionalism Award in recognition of his judicial service by the Inn on the Teche,  American Inns of Court.  He held membership in the American Bar Association, National Bar Association, and Louisiana Bar Association, among others.
On January 7th, 2016 Judge Porter was appointed as the Chief Tribal Judge of the Chitimacha Tribal and Juvenile Courts in Charenton, Louisiana.  He is a deacon and member of the Board of Trustees of the Teche Congregational Church of Morbihan, Louisiana and Chairman of the Board of Directors of the Bunk Johnson Jazz Arts & Heritage Festival, Inc.