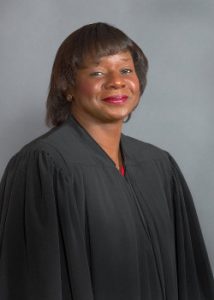 '
'
'
'
The Honorable Felicia Toney Williams has served as a judge for the Second Circuit Court of Appeal since 1993. From September-December 1994, she was appointed to serve as an Associate Justice Pro Tempore for the Louisiana Supreme Court. Prior to her election to the Court of Appeal, she was a district judge for the Sixth Judicial District from 1991 to 1992. She also served in the position of Assistant District Attorney for the Sixth Judicial District from 1982 to 1990. While serving in the capacity as Assistant District Attorney, she was also a partner in the law firm of Williams & Williams, APLC.
'
'
Judge Williams received a BA degree from Southern University in 1977 (magna cum laude), and her JD degree from Southern University School of Law in 1980 (cum laude). She was Editor-in-Chief of the Southern University Law Review Journal.
'
'
Judge Williams is a member of the American Bar Association, Louisiana State Bar Association, National Bar Association, Shreveport Bar Association, New Orleans Bar Association, Second Circuit Judges Association, Fred Fudickar, Jr. American Inn of Court, Task Force on Women in the Courts, Louisiana Law Institute Children's Code Committee, National Association of Women Judges, Children's Code Project Committee, Louisiana Task Force on Racial and Ethnic Bias, Louisiana Task Force on Cameras in the Courtroom, Louisiana Supreme Court Rules of Professional Conduct Committee, Ex-Officio member, Board of Governors, Louisiana Judicial College, Alpha Kappa Alpha Sorority, Flowers' Chapter #70 – Order of the Eastern Star and a Life Member of the Southern University Alumni Federation.
'
'
Judge Williams is married to attorney Moses Junior Williams. They have three children, Rhonda Williams Jackson, Myra M. Williams and Justin J. Williams, and two grand-children, Christian and Camryn Jackson.
'
'