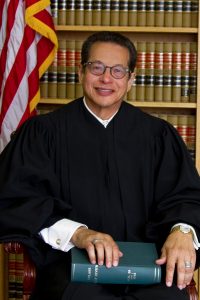 Judge Ulysses Gene Thibodeaux is the Chief Judge of the Third Circuit Court of Appeal.  He is a graduate of Dartmouth College and Tulane Law School, where he was an Earl Warren Scholar.  He is a member of the 2017 Hall of Fame Class of Tulane Law School. He is the past President of The National Council of Chief Judges, an organization consisting of chief judges of the intermediate appellate courts in the United States and its territories.  Judge Thibodeaux chaired The Task Force on Judicial Independence and co-chaired the Louisiana Supreme Court Task Force on Racial Fairness in the Courts.  He is the 2010 recipient of the Judge A. Leon Higginbotham Award for Judicial Excellence from the National Bar Association and the 2009 recipient of the Thurgood Marshall Award from the National Bar Association for serving as an exemplary role model for judges and lawyers.
Chief Judge Thibodeaux has served as National Financial Secretary for the National Bar Association, as a member of the Louisiana Supreme Court's Committee to Study Bifurcation of the Judiciary Commission, and as a member of the Advisory Committee to the Louisiana Supreme Court for Revision of the Code of Judicial Conduct.  He is the Vice-Chairman of the Louisiana Judicial Compensation Commission.  He is an Honorary Life Member of the Board of Trustees of the Lawyers' Committee for Civil Rights Under Law.
Chief Judge Thibodeaux is active in the community as a Board member of several organizations:  SWLA Center for Health Services, a federally qualified health center which serves 23,000 patients in southwest Louisiana; founder of three Type 2 charter schools with enrollments totaling 2,000 students; Lake Charles Memorial Hospital; and, Louisiana Facilities Corporation which oversees capital projects on Louisiana's community and technical colleges.
Chief Judge Thibodeaux has authored articles on various topics in the Louisiana Law Review, the Louisiana Bar Journal, the Bench Press (newsletter of the Louisiana Judicial Council/NBA), and Louisiana Cultural Vistas, a magazine of statewide circulation.
He is a member of Immaculate Heart of Mary Catholic Church and is married to Phyllis Dugar Thibodeaux.