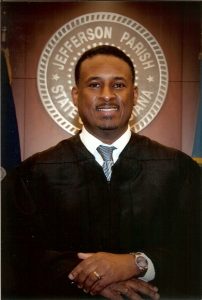 Judge Marc E. Johnson is the first African-American elected to the Louisiana Fifth Circuit Court of Appeal, and was elected on April 4­, 2009. He was a Kenner City Councilman for nearly sixteen (16) years. He was elected to the Kenner City Council to represent District 1 in 1994, re-elected in 1998, and re-elected without opposition in 2002. In 2006, Judge Johnson secured over 2,000 signatures from District 1 registered voters to run for a fourth term and was re-elected in the primary election against four (4) opponents.
Judge Johnson is a graduate of De La Salle High School, Xavier University of Louisiana where he received a Bachelor of Arts Degree in Political Science, and Southern University Law Center in Baton Rouge where he received a Juris Doctorate Degree.
After being admitted to the Louisiana State Bar, Judge Johnson served as an Assistant Parish Attorney for the Parish of Jefferson and as a Public Defender for the Jefferson Parish Indigent Defenders Board. He worked as a law clerk in the City Attorney's Office in Kenner and worked as an intern to U. S. Senator J. Bennett Johnston in Washington, D.C. Judge Johnson practiced law for nearly 20 years, serving the legal needs of the community.
While on the Kenner City Council, Judge Johnson founded and organized the Kenner "Back to School" Youth Rally, the Kenner Thanksgiving Senior Citizen Dinner, and the Christmas on the River toy giveaway to benefit needy children. He is also credited with the development of Susan Park Gymnasium, Rosemary Minor Park, Felice McMiller Splash Park, Harry Jennings Tennis Court, Rivertown Fire Station, the Martin Luther King, the Annie Washington, and the Arthur P. Clay Resource Centers, just to name a few.
Awards and accomplishments for Judge Johnson include the Martin Luther King, Jr. Task Force Award, the Martin Luther King, Jr. Pioneer Award, the True Democrat Award, the Kennerettes Community Service Award, the Christian Bible College Award, and the Southern University Student Bar Association Award.
Judge Johnson is a sixth generation resident of Kenner, Louisiana. He is married and has three children. He is a member of Little Zion Missionary Baptist Church, Concerned Citizens Civic Coalition, Louisiana Bar Association, Louis Martinet Legal Society, Young Men Illinois Club, Old Kenner Civic Association and Crown Group Scholarship Foundation.