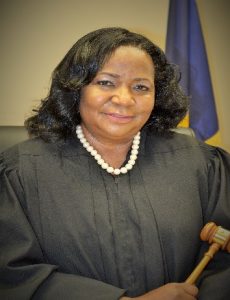 Judge Pamela Taylor Johnson serves on the Juvenile Court East Baton Rouge Parish, a position to which she was elected in 1994. She presides over Delinquency, Child Abuse and Neglect, Adoptions, Family in Need of Services, Consent to Marriage and Consent for Abortion proceedings.
Judge Johnson has served as faculty for the National Council of Juvenile and Family Court Judges (NCJFCJ), National Bar Association (NBA), Louisiana Judicial College, Louisiana Judicial Council /NBA, the National Association of Women Judges (NAWJ), and the National Association for the Advancement of Colored People (NAACP). Judge Johnson is an educator of parliamentarian law, rules and procedures and is currently a member of the Louisiana State Law Institute.
Judge Johnson is an Adjunct Professor of Ethics for Southern University, Department of Criminal Justice, she has served in that capacity since 2005. She previously served as General Counsel for Louisiana State Department of Education and was a member of the Law Firm Johnson, Taylor, Ritzie and Thomas. Judge Johnson served as co-counsel for the landmark case Clark vs. Edward which paved the way for the election of black judges in Louisiana and throughout the South.  In addition to serving as an active members of numerous legal, civic and social organizations, Judge Johnson is a lifetime member of Jackson State Alumni Association, NAACP and Alpha Kappa Alpha Sorority Incorporated.
Judge Johnson received her Bachelor of Science from Jackson State University in 1976 and Juris Doctorate from Southern University Law Center in 1979.