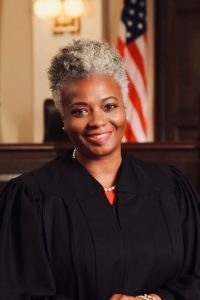 After 23 years of practicing law, in the capacity as an assistant district attorney, criminal defense attorney and solo practitioner, Judge Sandra Cabrina Jenkins was elected on November 6, 2012 to the Louisiana Fourth Circuit Court of Appeal.
Education and Professional Involvement
A Baton Rouge, Louisiana native, Judge Jenkins completed all of her studies at home: Redemptorist High School; Louisiana State University, Bachelor of Arts (Political Science); Southern University, Nelson Mandela School of Public Policy and Urban Affairs, Master of Public Administration; Southern University Law Center, Juris Doctor. She received her Master of Divinity from Mercer University (Atlanta), McAfee School of Theology.
Teaching is Judge Jenkins' passion. She teaches judges, lawyers and lay-persons at the national, state and local level. In 2018, Judge Jenkins was invited to the faculty of the National Judicial College. She is currently the National Judicial Opioid Task Force faculty member for the State of Louisiana and a Judicial Education Faculty Member for the Louisiana Supreme Court's Domestic Violence LPOR program. Judge Jenkins has served as an adjunct professor at Xavier University of Louisiana since 2010 where she teaches pre-law courses.
Judge Jenkins holds membership in National, State, and Local Bar Associations. In 2018, she was appointed by Governor John Bel Edwards to the Louisiana Women's Incarceration Task Force. She serves on the Board of Directors for Operation Restoration and on the Pink Executive Council for Making Strides against Breast Cancer. Judge Jenkins is a Mentor for the Legal Education Advancing Diversity (LEAD) program. This program embraces aspiring law students from HBCUs (Dillard, SUNO, and Xavier Universities) in the greater New Orleans area. At the 2019 Annual Meeting for the National Association of Women Judges, Judge Jenkins was appointed as the District 6 (Alabama, Louisiana, Mississippi, Tennessee) State chair.
Civic and Ministry Involvement
Shortly after her election, Judge Jenkins developed her Law Camp. Judge Jenkins Law Camp is designed as an educational tool to encourage dialogue about the law. In 2014, her inaugural camp was a youth and young adult camp which celebrated the 50th Anniversary of the passage of the Civil Rights Act.   The camps have evolved into three distinct series:
JWOB – Justice Without Bias – JWOB Law camps address relevant legal issues in our community. Justice Without Bias Camps have tackled constitutional issues associated with encounters with law enforcement, criminal justice reform, Elder law, Domestic Violence.
Law Body and Soul – This camp is a marriage between law and spirituality. As a Jurist and Minister, Judge Jenkins offers for consideration the relationship between the Law, Spirituality, and our entire being. Law Body and Soul Camps have included a series of discussions on Violence Against Women and Girls, Modern Day Slavery and Human Trafficking, Behavioral Health Courts (Opioid and Mental Health).
The Civility of Civics – Judge Jenkins educates on the basic precepts of the role of government, the rule of law, and our civic responsibilities as citizens. Civility of Civics Camps have specifically focused on rights and responsibilities of citizens – voting, jury duty; know your government; respect and responsibility for family and community.
All three camps incorporate age appropriate youth and young adult curricula.
Judge Jenkins is a former board member of the Louisiana Foundation Against Sexual Assault, Greg K. Monroe Foundation, and Alliance for Affordable Energy. During her career as a lawyer, she served as a CASA and volunteered with Junior Achievement Success Skills, New Orleans Teen Court, Biz-Link Law Project, Big Brothers/Sisters of Southeast Louisiana, LEAP Tutor and Kids at Risk Project (Federal Bar Association). As a lawyer, she offered pro bono services to the homeless and Veterans populations in the City of New Orleans through Project H.E.L.P.   She became a VA accredited attorney which authorized her to assist Veterans in the preparation, presentation and prosecution of VA benefit claims. Additionally, she served on Governor Kathleen Blanco's Transition Advisory Committee for the Department of Corrections.
Judge Jenkins has been honored by diverse organizations for her work in the community – Operation Restoration and Newcomb Prison Project Impact Award and Business and Professional Women of The Unified Women's Ministry of the Westside Missionary Baptist Association for her outstanding contributions in the community and leadership in Kingdom building.
Finally, Judge Jenkins is a licensed minister at First Emanuel Baptist Church, New Orleans. Her ministry responsibilities over the past 30 years include curriculum development and writing, 40 day fasting and prayer journal, teaching, preaching, and Sisters of T.a.m.a.r., a ministry for women and girls who have experienced violence. She also facilitates the women's Retreat, E-PREP: Empowering Women through Prayer, Restoration, Expectation, and Promise. Min. Jenkins has served as youth director, a member of the board of trustees, street ministry, youth and adult Sunday school teacher, and has been honored as "Woman of the Year". She is also active with the United Baptist Association, Inc. (UBAI) Women's Ministry.