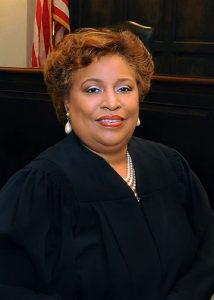 Judge Terri Fleming Love Court of Appeal –Fourth Circuit State of Louisiana
Judge Terri F. Love received her Bachelor of Arts in political science from Jackson State University in 1983, which was followed by a Juris Doctor from Tulane University School of Law in 1986. In 2004, Judge Love earned a Master of Laws in the Judicial Process from the University of Virginia School of Law. After being admitted to the Louisiana State Bar in 1987, Judge Love worked for the law firm of Bryan and Gray. Judge Love then established a private practice specializing in family law. Later, as the Chief Deputy City Attorney appointed by Mayor Marc Morial, Judge Love authored the first domestic violence ordinance for the city of New Orleans. Judge Love was appointed in 1993 by the judges of the Orleans Parish Juvenile Court to serve as a Judge Ad Hoc. Judge Love was elected in 1995 to the Orleans Parish Civil District Court. In 2014, Judge Love was re-elected to the Court of Appeal, Fourth Circuit, State of Louisiana, where she has served for fourteen years.
A continuing student of the law, Judge Love has completed the New York University School of Law's Institute for Appellate Judges and the George Mason School of Law Collegium. In 2007, Judge Love was selected to attend the International Judicial Academy, where she studied international law at The Hague, Netherlands.
In addition to the numerous community awards that Judge Love has received, in May 2004, she was bestowed with the prestigious Ernest N. Morial, Judicial Pacesetter Award, presented by the Louis A. Martinet Legal Society. In 2012, Judge Love received the National Urban League Women of Power Award. Judge Love is committed to the education of our youth. She has served on the Xavier University Preparatory School's Board of Directors, Jackson State University's Development Board, and also served as the inaugural chair of the Jackson State University Woman's Philanthropy Board.
Judge Love also serves as a mentor and advisor with programs committed to collegiate education of the youth of New Orleans namely, College Track and the Young Leadership Council's College Admission Program (CAP). Judge Love is a member of the Greater Saint Stephens Full Gospel Baptist Church. Her dedication to providing, cultivating, and encouraging service to the community is continuous, as she is an active member of the Omicron Lambda Omega Chapter of Alpha Kappa Alpha Sorority, Inc. She is also a member of the New Orleans Chapter of The Links, Inc. Judge Love is married with a daughter and a stepson.