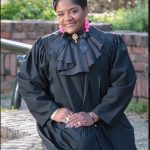 Judge Ree J. Casey-Jones To Receive a US. Congressional Award
Judge Ree Casey-Jones will be awarded the Angels in Adoption Award in November in Washington, DC. This Congressional award is given based on the persons outstanding work within the child welfare system.
The award program draws national and local media attention to raise public awareness about the positive difference adoption and fostering makes in the life of a child.
Judge Casey-Jones was elected to the Caddo Parish Juvenile Court bench in December of 2016. During her short tenure there she has been a strong advocate for children and families through her work with the Family Preservation Court, Juvenile Human Trafficking Court, delinquencies and adoptions.
Judge Casey-Jones believes that no one should do this job just for the accolades. My time on the bench initially started as a way to make sure every child had fair access to justice, now this has turned into my mission. No child should be left behind. Children and Families are very important to me.  Every child deserves to be a child, have a happy and peaceful life, and the opportunity to be anything they want to be in life. My favorite day is "Gotcha Day!" That's the day I make a family legal and complete!