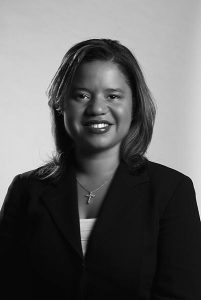 '
'
Judge Candice Vaughn Bates-Anderson was born in New Orleans, LA on May 12, 1970, where she was then educated by St. James Major Elementary followed by Ursuline Academy, McMain Magnet high school and New Orleans Center for Creative Arts.
'
'
After graduating cum laude from Clark Atlanta University and becoming a member of Alpha Kappa Alpha Sorority, Inc., she was named one of the "who's who" in colleges and universities. She then moved back to New Orleans, graduated from Tulane University School of Law and
began her legal career as a judicial law clerk for the Honorable Judge Charles Imbornone.
'
'
She then became an associate in the law firm of Beahm and Green where she gathered tremendous trial experience in the Orleans Parish court system.
'
'
Prior to Hurricane Katrina, she was an in-house attorney for the Regional Transit Authority and a partner in the law firm of Anderson and Darensburg where she handled clients with personal litigation as well as the Regional Transit Authority and the Housing Authority of New
Orleans. As a past member of the Pontchartrain Chapter of the Links Incorporated and a past board member of the St. Mark's Community Center, she has always tried to give back to the
community that gave her so much. She is a past member of the New Orleans Regional Business District Park Board and she attends St. Augustine Catholic Church as well as an afterschool program for the city's youth. She is a current member of the New Orleans Bar
Association and the Louisiana State Bar Association.
'
'
She is a member of the Historic Faubourg Treme Neighborhood Association and is the devoted wife of Aaron Anderson III and the proud mother of twin girls Penelope and Caydance Anderson.
'
'