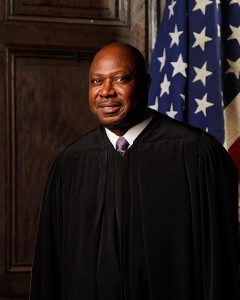 Chief Judge Charles R. Jones serves on the Louisiana Court of Appeal, Fourth Circuit. The Court has general jurisdiction and reviews all matters sought to be reviewed from Orleans, Plaquemines and St. Bernard Parishes, except for cases wherein a sentence of death has been imposed. A veteran of the U.S. Army, Chief Judge Jones is a graduate of Xavier University, and Loyola University of New Orleans School of Law. He first served in the Orleans Parish District Attorney's Office, and then in the Orleans Public Defender's Office. He served in the Louisiana House of Representatives from 1984 to 1991, until he commenced service as an Associate Judge to this Court in January1992.
Chief Judge Jones is a member of the Judicial Council of the American Bar Association, Judicial Council of the National Bar Association, a member of the Louisiana Conference of Court of Appeal Judges, a member of the Council of Chief Judges, State Courts of Appeal, and a Board member for the Preservation Fund. Chief Judge Jones is also involved with numerous other civic boards and associations and is an active member of St. Raymond and St. Leo the Great Catholic Parish.
Chief Judge Jones is married to Charlee R. Jones, and has five children, eight grandchildren, and one great-grandchild.