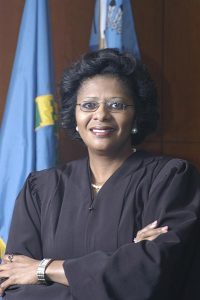 On April 1, 2006, the Honorable June Berry Darensburg was elected Judge to the Twenty-Fourth Judicial District Court, Division C, for the Parish of Jefferson, State of Louisiana. She was re-elected without opposition in July 2008.  Judge Darensburg is the first African American female elected to a judgeship in Jefferson Parish. Her historic election is the culmination of her dedication to academic excellence, many years of hard work and achievement.
Judge Darensburg is a 1980 graduate of Grace King High School. Pursuing her first career ambition, she enrolled at Xavier University of Louisiana where she majored in Pharmacy. She received her Bachelor of Science in Pharmacy from Xavier in 1985.
While working as a Pharmacist, Judge Darensburg developed an interest in the law. She attended Loyola University School of Law full time, while working part time as a Pharmacist, being a devoted wife and mother to her two young sons. In December 1994, Judge Darensburg graduated from Loyola. She worked in private practice, and was employed by the Jefferson Parish Indigent Defender Board providing legal service to those unable to afford representation. She was also employed as an Associate Attorney by the LeBlanc Butler Law Firm where she was a litigator in the areas of Products Liability and Insurance Defense.
She has continued her education as a Judge by attending The National Judicial College to study General Jurisdiction, Comprehensive Drug Court Training and Management for Presiding Judges. She has been a panelist for the National Business Institute, Jamaican Sunset CLE, Legal Aid Bureau CLE and Louisiana Judicial College.
Judge Darensburg has always shared her talents with the New Orleans Metropolitan Community. She has served as Chairperson and Vice Chairperson of I Can Help, Inc. of the Twenty-Fourth Judicial District Court. She has also served on the Lafreniere Park Advisory Board, Vice President and Board Member of Jefferson Twenty-Five, Leadership Jefferson and Cuillier Career Center Advisory Board, Former President of the Legal Aid Bureau and Former President of the Fifth Circuit Judges Association.
She is a member of the Louisiana State Bar Association, American Bar Association, Jefferson Bar Association, Louis A. Martinet Society, National Council of Juvenile and Family Court Judges, National Association of Women Judges, Louisiana Judicial Council-NBA Division, Louisiana District Judges Association, Fourth and Fifth Circuit Judges Associations and Louisiana Pharmacy Association.
She is also a member of Delta Sigma Theta Sorority, Inc., Jefferson Dollars for Scholars, Jefferson Parish Children and Youth Planning Board, Our Lady of Perpetual Help Advisory Board, the Westwego Rotary Club, the Xavier University Investigational Review Board, Legal Aid Bureau Board and Leadership Jefferson Task Force. She currently holds the position of Chairperson of the Finance and Facilities Committee in the 24th Judicial District Court.
Judge Darensburg sits as an Intensive Probation Drug Court Judge.