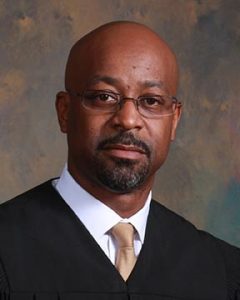 The Honorable Lee V. Faulkner, Jr., was born in New Orleans, Louisiana and is a life long resident of Jefferson Parish. He graduated from Xavier University of Louisiana and the Southern University Law Center in Baton Rouge, Louisiana.
Following law school, Judge Faulkner entered into private practice, handling personal injury, criminal, civil and domestic cases. He also served as a public defender for the Parish of Jefferson.
Prior to being elected as Judge, he was appointed by the Louisiana Supreme Court to serve as
Judge Ad Hoc for Second Parish Court for the Parish of Jefferson. He also served as a Traffic Hearing Officer for Second Parish Court.
He was elected as a District Judge in 2008, following the retirement of the Honorable Melvin C. Zeno.
He is a member of numerous social, judicial and legal organizations, including but not limited to the National Bar Association, American Judges Association, Past President of the Jefferson Bar Association, Louisiana State Bar Association and the Omega Psi Phi Fraternity, Incorporated.