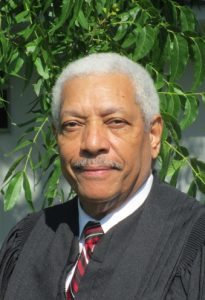 Judge Luke A. LaVergne, a native of, or around Opelousas, Louisiana, is a retired Judge of the 19th Judicial District Family Court, Parish of East Baton Rouge, state of Louisiana, He first ran for election in October 1990, and was re-elected for two additional six year terms without opposition. He retired on December 31, 2008, after serving sixteen years on the bench, the last two as the Chief Judge of  court. Prior to his election to the bench, he served as an assistant district Attorney, and as assistant Parish Attorney. He currently serves on the board of the National Bar Association-Judicial Council as Treasurer; the board of the Louisiana Judicial Council/NBA-treasurer; and on the Council of the Louisiana State Civil Law Institute. He has served on the Board of the  Baton Rouge Bar Association, the Board of The Louisiana Judicial College;  and as president of the Louis A. Martinet Legal Society, an affiliate chapter of the National Bar Association.
He received his undergraduate degree in Business and Finance from the University of Nebraska at Omaha, his Masters Degree in Guidance and Counseling from Southern Illinois University at Edwardsville and his Law degree from LSU. He served in the U.S. Air Force for a 23 ½ year career, retiring with the rank of Major. He served the last four years of his Air Force career  as an Assistant Professor of Aerospace studies at LSU, Baton Rouge.
He has served on the Boards of the Baton Rouge Symphony,  Boy Scouts of America, YMCA and the Board Our Lady of the Lake Regional Medical Center. He was active with the Lions Club, the Baton Rouge Rotary Club and is a life member Phi Beta Sigma Fraternity. He is currently on the Board of Trustees of Our Lady of the Lake College, and teaches Family Law as an Adjunct Professor at Southern University Law Center.
Judge LaVergne is the widower of the late Catherine Malveaux LaVergne, and has two children: A Son, Lance, and a daughter, Cynthia, and four grandchildren.  He is an active member of St. Paul The Apostle Catholic Church, where he serves as Chairman of the Finance Committee, co-chair of the building committee and teaches church history.