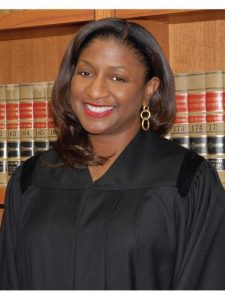 Judge Sheva M. Sims, a life-long resident of Shreveport, Louisiana, was elected Judge on November 19, 2011, for Shreveport City Court Division D. Judge Sims was re-elected to the Shreveport City Court bench in 2014. Prior to her election to the bench, Judge Sims was a practicing attorney for over 17 years, handling civil and criminal litigation, small claims, and domestic cases.
Her educational background includes a Bachelor of Science in Mathematics from Dillard University and a Doctor of Jurisprudence degree from the Southern University Law Center. After graduating from Dillard University, Judge Sims worked as a high school mathematics teacher. She also worked as a minister of music for various churches throughout the State of Louisiana. Passionate about her mathematics skills and her desire to empower others with this knowledge, she readily tutors individuals in mathematics as regularly.
Judge Sims is a member or past member of the following associations and committees:
American Judges Association
National Association of Women Judges, District 6 Director
International Association of Women Judges
Louisiana Judicial Council, National Bar Association, Secretary
Supreme Court of Louisiana Historical Society
YMCA, Past Board of Director President
League of Women Voters
North Shreveport Business Association
Louisiana AIDS Advocacy Network
Louisiana State Bar Association

Louisiana Bar Foundation Education Committee
Community Action and Lawyers in Transition Committee
Foundation Grant Committee
House of Delegates
Louisiana Bar Foundation's Communication Committee
During her tenure on the bench, Judge Sims has received the following awards:
The Power of Influence Woman of Inspiration Award (2018)
Judge Benjamin Jones Judges in the Classroom Award (2017)
HERA Award Nominee (2016)
SUSLA Upward Bound North Trio Achiever Award (2015)
Dr. Martin Luther King Jr. Civil Rights Award, Shreveport, LA (2014)
TRIO Achiever (2014)
Crystal Gavel Award (2013)
Dr. Jesse N. Stone Pioneer Award (2013)
Women Motivating Women Award (2012)
Gospel Music Living Legend Award (2011)
The David Raines Community Center recognized Judge Sims for her outstanding accomplishments, making history and making a difference in the city, state, and in Caddo Parish on January 29, 2014, and SB Magazine featured her as a Top Attorney in April 2009.  She also received the Leah Hipple McKay Memorial Award as an Outstanding Volunteer in 2009.
Since Judge Sims' election to the bench, she made history by participating in the first Judicial Ride-Along Program at Shreveport City Court, a program the Louisiana Supreme Court launched to invite members of the Louisiana Legislature to spend a half-day "on the bench" with judges. Judge Sims is the first judge in Shreveport to convene neighborhood informational seminars entitled "Know Your Legal Rights," in an effort to educate and inform members of the community of their legal rights. Judge Sims has spoken to thousands of citizens on numerous occasions relative to same.
Judge Sims has been a frequent speaker throughout Shreveport at various schools for graduations, honor convocations and events such as the Judges/Lawyers in the Classroom, a program implemented by The Louisiana Center for Law and Civic Education (LCLCE). In 2012, Judge Sims was selected by the Louisiana Supreme Court to participate in the Louisiana Judicial Leadership Institute, a program designed to recognize and train future leaders in the judiciary. Judge Sims' portrait was recently added to the Southern University Law Center's "Wall of Fame" for her level of excellence and outstanding achievements in the legal profession
Judge Sims is the daughter of the late Dr. Howard Sims, Jr. and Mrs. Eva L. Sims. Her siblings are Dr. Sharon D. Sims (Nia) and Ms. Shunta E. Sims. She is the proud mother of two wonderful daughters, Taylor and K.C.