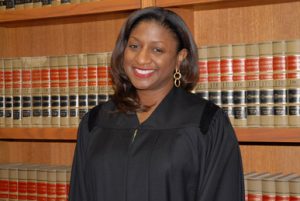 Judge Sheva M. Sims, a life-long resident of Shreveport, Lousisiana, was elected Judge on November 19, 2011, for Shreveport City Court , Division D. Prior to becoming a Judge, Judge Sims was a practicing attorney for over 17 years, handling civil and criminal litigation, small claims, and domestic cases.
Judge Sims graduated with a Bachelor of Science in Mathematics from Dillard University in 1989 and a Juris Doctorate Degree from Southern University Law Center in 1994. Judge Sims is a former high school mathematics teacher and former Minister of Music for various churches
throughout the State of Louisiana.
Judge Sims is the past president of the board of directors for the YWCA of Northwest Louisiana, and she presently tutors in mathematics. Judge Sims is a member of the National Bar Association, Louisiana State Bar Association, in which she served on the Community
Action and Lawyers in Transition Committees and LSBA House of Delegates, SBA, BLASB,
League of Women Voters, North Shreveport Business Association, Louisiana AIDS Advocacy Network, and Texas Avenue Community Association.
Judge Sims is the 2009 recipient of the Leah Hipple McKay Memorial Award for Outstanding Volunteerism. The award is in memory of Leah Hipple McKay, LSBA member and wife of former LSBA President Michael W. McKay of Baton Rouge. The award is given yearly to only one attorney in the entire State of Louisiana who has made significant long-term contributions in volunteerism in his/her state or local community. Sims was featured by SB Magazine in April 2009 as a Top Attorney. Sims was the recipient of the Gospel Music Living Legend Award in 2011.
Since Judge Sims' election on the bench, she has already made history by participating in the first Judicial Ride-Along Program at Shreveport City Court, a program the Louisiana Supreme
Court launched to invite members of the Louisiana legislature to spend a half-day "on the bench" with judges. Judge Sims is the first judge in Shreveport to set up neighborhood informational seminars on "Know Your Legal Rights," in an effort to educate and inform people of their legal rights.
Judge Sims is the daughter of the late Dr. Howard Sims, Jr. and Mrs. Eva L. Sims. Her siblings are Dr. Sharon D. Sims (Nia) and Ms. Shunta E. Sims. Judge Sims is the proud mother of two wonderful daughters, Taylor and K.C.