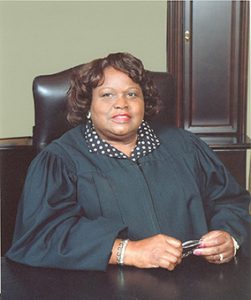 Justice Bernette Joshua Johnson was elected to serve on the Louisiana Supreme Court in 1994, and was re-elected, without opposition, in 2000. She serves on the Louisiana Supreme Court's Judicial Council, and has served on the Court's Legal Services Task Force, as well as the National Campaign on Best Practices in the area of Racial and Ethnic Fairness in the Courts. Justice Johnson has worked closely with the Court's Mandatory Continuing Legal Education Committee and the Committee on Bar Admissions. She is the Court's appointee to the Louisiana Law Institute.
Justice Johnson attended Spelman College in Atlanta, Georgia on an academic scholarship, where she received a Bachelor of Arts degree. She received an Honorary Doctorate in Law from Spelman College at commencement services in April, 2001. She was one of the first African-American women to attend the Law School at Louisiana State University ("LSU"), where she received her Juris Doctorate degree in 1969. She was honored by her law school in 1996, when her portrait was unveiled, and she was inducted into the LSU Law Center's Hall of Fame.
Justice Johnson's judicial career began in 1984, when she was elected to the Civil District Court of New Orleans, and was the first woman to hold that office. She was re-elected, without opposition, in 1990 and was elected Chief Judge by her colleagues in 1994. As a civil trial judge, she was first assigned to Domestic Relations Court, where she established a system to refer custody, alimony, and child support issues to mediation conducted by certified social workers of the Children's Bureau and Family Services, prior to court appearances. The mediation was provided to needy families based on a sliding scale system for payment of fees.For much of her life, Justice Johnson has worked as an advocate for social justice, civil rights, and community organizing. During the 1960's, she worked as a community organizer with the National Association for the Advancement of Colored People (NAACP), Legal Defense & Educational Fund. She worked with community groups in Alabama, Mississippi, Georgia, North Carolina, South Carolina, Tennessee and Louisiana, disseminating information about recent school desegregation decisions, and encouraged parents to take advantage of newly desegregated schools. She used these skills later to help organize household workers so they would receive Social Security benefit, and a minimum wage.While a law student, Justice Johnson worked as a Law Intern with the U.S. Department of Justice (Civil Rights Division) Washington, D.C. She worked on cases filed by the Department to implement the 1964 Civil Rights Act. These dealt mostly with discrimination in public accommodations. She also served as a Federal Observer during elections in Greenwood, Mississippi.
After receiving her Juris Doctorate Degree from Louisiana State University Law School, Justice Johnson became the Managing Attorney with the New Orleans Legal Assistance Corporation, where she delivered legal services to over three thousand (3,000) clients in socio-economically deprived neighborhoods. As a civil litigator, she worked in the Federal and State District Courts, and Juvenile Court advancing the rights of children, the poor, the elderly, and the disenfranchised.
She litigated several consumer protection cases involving the Truth-in-Lending statute. These lawsuits were filed against aluminum siding salesmen and contractors who were going door-to-door convincing mostly elderly homeowners to sign contracts for shoddy work that resulted in liens on their homes.
In 1981, Justice Johnson joined the City Attorney's staff, and later became a Deputy City Attorney for the City of New Orleans. There, she attained extensive trial experience in the Civil District Court and U.S. District Court defending police brutality claims, and general tort claims, filed against the City of New Orleans. She supervised civil service litigation before the New Orleans Civil Service Commission, and supervised appellate work before the Louisiana Fourth Circuit Court of Appeals, where she defended agency suspensions and terminations.
Justice Johnson's scholarly pursuits include serving as an Adjunct Faculty member teaching Trial Advocacy at Tulane University Law School, and serving as an Adjunct Professor at Southern University, New Orleans, teaching Legal Terminology and Business Law. She has published numerous editorials, essays, legal opinions, and other scholarly works throughout her career.Justice Johnson is the recipient of numerous awards, including the 2009 Distinguished Jurist Award presented by the Louisiana Bar Foundation, and the Louisiana Bar Association President's Award for Exceptional Service as co-chair of the Task Force on Diversity in the Profession. She was presented with the Louis A. Martinet Legal Society President's Award in 1997 and 2008. In 2005, she was received the National Nobel Woman Award presented by the Organization of Black Elected Legislative Women, and the Judicial Public Service Award presented by the Ancient Egyptian Arabic Order Nobles Mystic Shrine of North and South America. Her other awards include: the 2000 Medal of Honor presented by the Mayor of the City of New Orleans; the 2000 Women of Wonder Award presented by the National Council of Negro Women; the first Ernest N. Morial Award presented by the New Orleans Legal Assistance Corporation; the A.P. Tureaud Citizenship Award presented by the Louisiana State Conference of the NAACP; the 1999 Martin Luther King, Jr. Torch Bearer Award; the 1998 Outstanding Community Service Award presented by the Imperial Court Daughters of Isis; the 1998 American Bar Association's Margaret Brent Women Lawyers of Achievement Award; the 1998 Outstanding Service Award presented by the International Law Section of the National Bar Association; and the 1992 Role Model Award presented by the Young Women's Christian Association (YWCA) of Greater New Orleans.
In 1998, she was the Chairperson of the National Bar Association-Judicial Council where she also served a term as Secretary. Justice Johnson organized the first Continuing Legal Education (CLE) program for the Louis A. Martinet Legal Society and was Chair of the CLE Committee. She is a Fleur De Lis member of the New Orleans Bar Association, and is active with several committees of the Louisiana State Bar Association, including the Louisiana Bar Foundation. She is an active member of the A.P. Tureaud Chapter of the American Inns of Court, where she currently serves as President; the Louisiana State Law Institute, and the National Association of Women Judges, where she has served as a District Director, and is now active with the Women in Prison Project. Justice Johnson is a member of the Greater St. Stephen Full Gospel Baptist Church, where she serves on the Trustee Board. She is an active member of Omicron Nu Zeta Chapter, Zeta Phi Beta Sorority, Inc., and the New Orleans Chapter of Links, Inc., both service organizations.
In addition to her judicial responsibilities, Justice Johnson has been actively involved in serving the community. She has served as an Executive Committee Member of the National Alumnae Association Spelman College (1991-1994); as Chair of the New Orleans Chapter of the Southern Christian Leadership Conference (1989-1994); as a Member of the Martin Luther King National Holiday Planning Committee; as a Member of the Board of Directors of the Young Women Christian Association and as a Life Member of the NAACP.
A much sought after speaker, Justice Johnson is frequently called upon to address legal, academic, and community groups. In 1995, she was the Commencement Speaker at Grambling State University. She was guest speaker at the Arizona Missionary Baptist State Convention in Phoenix, Arizona in 1996; a guest speaker at the Martin Luther King, Jr., Celebration in Eatonville, Florida in 1998. She was the Women's History Month Speaker at several U.S. Military bases in Germany in March, 2001, and the Commencement Speaker at Southern University Law Center in 2003. In 2004, she delivered the John H. Tucker, Jr. Lecture in Civil Law at the Louisiana State University (LSU) Paul M. Hebert Law Center in Baton Rouge, Louisiana, and, in 2006, she lectured law students at Wuhan University Law School, in Wuhan, P.R. China. She was the Black History Month Speaker for the New Orleans Drug Enforcement Agency in 2007; and in 2008, she was the guest lecturer at the Urban League of Portland, Oregon.
Justice Johnson is the proud parent of two industrious and conscientious adult children: a son David, an accountant, who lives in Atlanta with his family, and a daughter Rachael, who is an attorney licensed to practice law in Florida and Louisiana.